Blog Archives
1) You spend way too much money at the grocery store. You keep telling yourself that this expensive item will enhance the recipe. 
2) You know where everything in the baking aisle is.
3) People ask you where things are in the baking aisle because you appear confident in where things are and what product(s) to get.
4) You think it's "cute" when someone doesn't know what baking powder is.
5) You are constantly looking up different recipes.
6) You try a new recipe and feel like it's not right so you add your own spin on it, because who really needs bok choy anyways?
7) Grocery store workers attempt to avoid you because you always ask them if they have new herbs like basil and thyme in.
8) You go to sleep looking at recipes which results in you becoming extremely hungry at highly inconvenient times.
9) When you try a new recipe, you tell yourself, you're an adult and you can do this! However, you're worried about your skills and you're usually not 100% happy with a recipe if you had high hopes for it. In turn, if you had low expectations on a recipe, and it goes well, it's not just a good day. It's the best day! You feel like you're in a Disney domestic fictional fairy tale!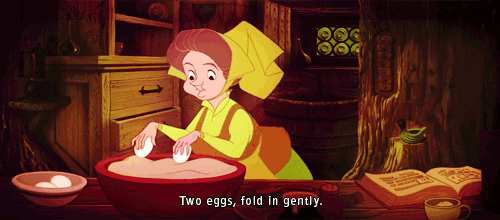 10. You constantly think about owning your own bakery/cafe/restaurant but you don't actually want to bake/cook that much you just want to make things for yourself, your friends and family with no time limit. You mean I get to bake/cook all day and its my job!?! However you start crying because you know you bake/cook to keep your sanity in check.
Broad City season 3. It's the little things. But no, really, I'm looking forward to it, Abbi and Ilana are my heros. I want to see Game of Thrones too but I'm still all bummed about one of my favorite characters dying.
I'm kinda thanking my lucky stars that "Let It Go" from Frozen is not being played as much or referenced… However I did just ruin that by referencing it now. Crap.
It's an even year, which supposedly means good luck. Let's see about that!
The possibility of starting to exercise both at the gym and bouldering. Maybe now, I can be buff for the first time. Hey it could happen! I have a friend that's getting a gym pass and my boyfriend has one so there ya go.
I'm excited for Beerfest at the Duke Energy Center in Cincinnati. It's one of my favorite events to go to each year. Last year I even interviewed a brewer and self defined beer snob, Kory Roaden. Craft bbbeerrrrrrr!
I'm excited for the possibility of a vacation for next year. I'm not sure where I'll go, but I see a beach in my future.
I'm excited that I'll see my bff next year. It's been way too long, but he'll back from Spain soon(ish)!
I am excited to really get into books again. Since my library days are sadly over, it's been a bit harder to find good books, but I'm going to make reading a priority again this year.
Having better cooking/baking skills. I'm trying to expand my culinary skills and thanks to some Christmas presents this year I think I'll be getting better!
Starting out a new year. We can always pretend it's a blank slate, right?