Blog Archives
1) You spend way too much money at the grocery store. You keep telling yourself that this expensive item will enhance the recipe. 
2) You know where everything in the baking aisle is.
3) People ask you where things are in the baking aisle because you appear confident in where things are and what product(s) to get.
4) You think it's "cute" when someone doesn't know what baking powder is.
5) You are constantly looking up different recipes.
6) You try a new recipe and feel like it's not right so you add your own spin on it, because who really needs bok choy anyways?
7) Grocery store workers attempt to avoid you because you always ask them if they have new herbs like basil and thyme in.
8) You go to sleep looking at recipes which results in you becoming extremely hungry at highly inconvenient times.
9) When you try a new recipe, you tell yourself, you're an adult and you can do this! However, you're worried about your skills and you're usually not 100% happy with a recipe if you had high hopes for it. In turn, if you had low expectations on a recipe, and it goes well, it's not just a good day. It's the best day! You feel like you're in a Disney domestic fictional fairy tale!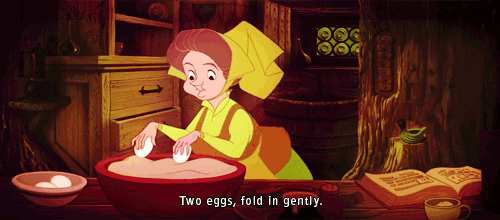 10. You constantly think about owning your own bakery/cafe/restaurant but you don't actually want to bake/cook that much you just want to make things for yourself, your friends and family with no time limit. You mean I get to bake/cook all day and its my job!?! However you start crying because you know you bake/cook to keep your sanity in check.
Hello everyone, it is top ten Tuesday! Today I will be delving into the realm of dating. I have always been enthralled with the idea of love. I am a romantic. While I hate to admit it, I do like "The Notebook" and the occasional romantic comedy from time to time. So that is why I date. No, not so I have someone to watch rom coms with, but I date so that I can find someone to simply be with. Believe it or not, finding someone compatible can be rather challenging. Here are some tips that might help you along with you dating career:
1. Do not talk about your ex. I know that this gets repeated over and over again, but really, don't. Know why? If you start talking about your ex you're only going to be getting into a ditch that you'll have trouble digging yourself out of. If they start talking about their ex, try to validate what they're saying, but make sure to steer the conversation elsewhere. If they keep talking about their ex, get the Hell out of dodge. Seriously. Go.
2. Don't get drunk on a date. It may seem like a great option when you're nervous and freaking out, but believe me, don't. You'll most likely embarrass yourself, or at the very least you will be sleepy and won't concentrate on the date.
3. Your first date, shouldn't be a group date. It's weird, it's awkward and you won't really get to know the person. Even if you have known the person for months or years, it's hard to get personal when there's five other people around.
4. Don't go to a movie on your first date. Ditto to the above. Get to know them, talk to them!
5. You shouldn't mention marriage or kids. Unless you want to do those things tomorrow and your date does too, it's not the right thing to mention. Plus, there's always time…. unless your ninety. Then there's a little less time.
6. First dates can make anyone nervous. However, if you feel like you're in a bad situation, you feel uncomfortable or if you feel like the date isn't going anywhere-you should leave. I've recently been on a date where the guy wasn't my type. There was nothing wrong with him. He was nice, but we didn't have any chemistry. It didn't feel right, so after an hour I told a white lie and left. He got the hint, I felt slightly guilty but it was for the best. I'd rather not lead someone on.
7. Don't do anything you don't want to do. If you don't want to go back to someone's house, or if you don't want to kiss the person you're on a date with-you shouldn't have to lower your level of comfort.
8. Never settle. If you're not attracted to them, then why hurt the person you're going on a date with? It's cruel to them, and it's a waste of time for you.
9. Date outside the box. If you like someone but they're not your "type", try dating them anyway. You can be pleasantly surprised when you try to meet new people.
10. DON'T BE YOURSELF. I know what everyone says, just be yourself and they'll love you. Well I'm here to tell you that it doesn't work. Be the best version of you, be the person you strive to be. Think of who you would like to be and become that person on your date. Who knows? Maybe you'll become that amazing person you've always longed to be with another person. Now wouldn't that be great?
What are some of your dating tips?
Hey guys, sorry that I haven't written in awhile. I actually went to Disney World and Universal Studios last Tuesday and got back on Sunday. It was a jam packed trip. On Sunday I was more than happy to watch three hours of Hart of Dixie reruns on Netflix when I got home. What you can't exactly see is that I ended up carrying a princess backpack the majority of my trip… my niece was only three and it seemed unfair for me to be the only person not carrying anything so… Honestly, if it was anybody but my niece I probably wouldn't have, but it's Disney World. You kind of can't say no to kids there, it's impossible.
I did a lot of research on Disney World before we went. A LOT. I knew about fast passes, what rides I wanted to try, where everything was located, the apps-you name it and I probably had an inkling about it. I'm going to try to go over the highlights, because we all know that it would be easy to write a book about this place. I will say this first, and I'll get the haters out of the way. I liked Universal Studios better than Disney World. I know…. don't hate me too much.
Disney has a new process of handling tickets. Instead of the same old passes or cards, you now have to use your DNA. Ok, that sounded wrong when I typed that, but what I mean is you have to scan your card and they scan your fingerprints. It's a little creepy, and a little obsessive, but if you don't have the same DNA as the card your holding, good luck, A problem we ran into was mixing up our cards. Constantly. It wasn't until I started marking them with our names and details (Which were park hoppers which were one day passes) that we were finally golden.


Disney World is this amazing magical place that can take anyone by surprise. I was astounded by how captivated the princesses made me. The picture above is the sign for what we call, the princess breakfast. This is something you have to make reservations for, DO NOT decide to do this on a whim. You won't get in. Also, make sure you carpool or are aware of your entire party's whereabouts. We were late getting into Disney World because of a card mix up and were almost left behind. Half of your party can't arrive at one time, then another. Everyone enters at the same time. I get it, but I think it's a really unfortunate rule that could easily make or break your day. It's in the castle along with various princesses who visit you throughout your meal (The castle is technically Cinderella's, but I consider it a communal castle).
In the beginning  you are allowed to take a picture with a professional picture with a princess (We had Cinderella, but I'm not sure if that's always the case). We were made a priority and took the elevator since one of our family members was  in her last trimester of pregnancy, but otherwise be prepared to take the forty something stairs up to the castle. Luckily, my mom did not go because stairs are her worse enemy with her legs.
We then were served pastries to bide our hunger (Above). They were delicious. My personal favorite was the apple pastry. We then were introduced to the princesses one by one. My niece was in awe as each princess came up to her and chatted. I was wearing a shirt that was nautical themed, and when Ariel (My favorite princess) said she liked it, I admit I giggled and felt adored. They are really sweet to the kids, and have great background stories and character traits. Snow White tended to hop and skip everywhere she went, Jasmine talked about her time in Agrabah, etc. My niece was very disappointed that Rapunzel wasn't there, but we soon found out that she was in fact in a separated attraction since she was a new princess, so the crisis was averted. Our breakfast was delicious. I got the caramel apple stuffed French toast and I was left completely stuffed and happy. I would say it was the best meal I had while in Disney.
Also, below is a picture of the wand and star they give each child as they leave the breakfast. Super cute.
Well kiddos. I'll be posting more updates but that's it for now. Have a magical day!