Blog Archives
1) You spend way too much money at the grocery store. You keep telling yourself that this expensive item will enhance the recipe. 
2) You know where everything in the baking aisle is.
3) People ask you where things are in the baking aisle because you appear confident in where things are and what product(s) to get.
4) You think it's "cute" when someone doesn't know what baking powder is.
5) You are constantly looking up different recipes.
6) You try a new recipe and feel like it's not right so you add your own spin on it, because who really needs bok choy anyways?
7) Grocery store workers attempt to avoid you because you always ask them if they have new herbs like basil and thyme in.
8) You go to sleep looking at recipes which results in you becoming extremely hungry at highly inconvenient times.
9) When you try a new recipe, you tell yourself, you're an adult and you can do this! However, you're worried about your skills and you're usually not 100% happy with a recipe if you had high hopes for it. In turn, if you had low expectations on a recipe, and it goes well, it's not just a good day. It's the best day! You feel like you're in a Disney domestic fictional fairy tale!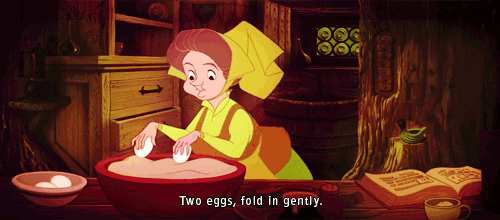 10. You constantly think about owning your own bakery/cafe/restaurant but you don't actually want to bake/cook that much you just want to make things for yourself, your friends and family with no time limit. You mean I get to bake/cook all day and its my job!?! However you start crying because you know you bake/cook to keep your sanity in check.
I know it's not Top Ten Tuesday, but I've been needing to write this post for awhile now and this is the only day I had any sort of free time because I've been sick and busy at work. Stress is difficult, and when I stress out I become upset. Hopefully you can either sympathize with the post and know you're not alone or at the very least get a kick out of the fact that your life isn't this ridiculous.
1. I stress clean. I clean like there's a mold invasion in my home and the only way to get it out is vacuuming and scrubbing like no other. I think I do think because it's a control issue. If I can make my house clean, then I can take control of my life. Obviously this isn't true, but it helps.
2. I talk to myself and try to boost my confidence…. but mainly I'm just talking to myself. "Hey, this is happening now and it sucks, but there's always coffee. Think about drinking some coffee. If you can do this today you can buy coffee from Dunkin' Donuts and you will have deserved it."
3. Vent. Oh I love to vent. Mainly I vent to my best friend, who uses me for venting at times, but I really will vent to anyone who will listen. I don't have a vent filter, though I should.
4. I have this tendency to eat really bad junk food or I can't eat at all. It depends on the situation. If I'm truly upset I won't eat at all. I get an upset stomach and everything I eat just comes back to bite me. It really sucks because if I had the choice I'd be chowing down on Chinese food and ice cream for weeks.
5. I do the ugly cry. I tend to cry when I'm upset or really frustrated. I try to turn it off but once I reach a certain line the waterworks start rolling and I look like a complete mess. It's not pretty,
6. I play video games. This really helps my stress level. I play video games until my eyes start to burn and I yearn to go to sleep. I particularly like to play Star Wars Battlefront but anything will do really. Grand Theft Auto has been known to increase the rage but it can be cathartic.
7. I call someone and talk to them. Preferably in person. Depending on how upset I am I call different people. If I need a mood booster I might call one friend or if I feel like I'm in the pits of despair I'll call a different friend. Yes, I do call different people depending on my mood sometimes. I know I'm weird.
8. I write about the situation. This sometimes helps and sometimes it makes it worse. I can either work out my problem on paper or I've at least put all of my thoughts down and collected them into one nice essay. This really could either work or not work for you. It usually works for me because like stress cleaning, I can resolve the mess and at least pretend it's fixed for now.
9. I hug someone. Cuddling helps. If you feel comfortable you can cuddle with your friend, family member or significant other. There's research on how cuddling can help. Or if you're out of humans to cuddle with, pet a dog or cat.
10. Scream like it's going out of style… like that phrase. I have done this, it does hurt. Be smart about yelling. You can strain your voice and that would suck but there is a sense of release once you finally yell like a banshee.